Just wanted to share a few images with you to show just how powerful digiscoping is and offer a few hints and tips. If you're not familiar with the term of digiscoping – it's a method of attaching a digital camera to a spotting scope to take extreme telephoto images, combining the optical power and resolution of the spotting scope with the digital sensor and technology of your camera to capture the image. To combine the two pieces of equipment together for best results a digiscoping adapter is required.
I'm using a Kowa TSN-884 Fluorite crystal spotting scope and my Olympus OMD E-M5 MK II. I then use the Kowa PA7 digiscoping adapter to pair the two together.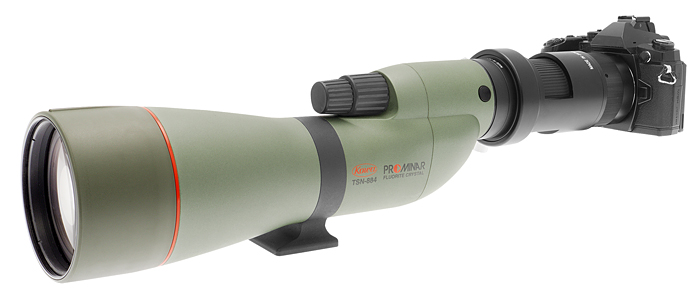 The Kowa TSN-884 spotting scope with Kowa TSN-PA7 digscoping adapter, TE-11WZ eyepiece and Olympus OMD E-M5 MK II camera body – a formidable telephoto set-up.
The Kowa TSN-PA7 is designed to slide of the kowa TE-11WZ zoom eyepiece whilst still allowing for full zoom throughout the 25-60x range. A T2 ring to match your camera body completes the set-up.
What you have to bear in mind when it comes to this type of digiscoping when you connect a camera body to a scope – where in effect, the spotting scope becomes the camera lens, is that you will be producing huge focal lengths, and with huge focal lengths comes challenges – a loss of light, the big risk of camera shake to make your images blurred – also high magnification can make just finding your subject matter difficult.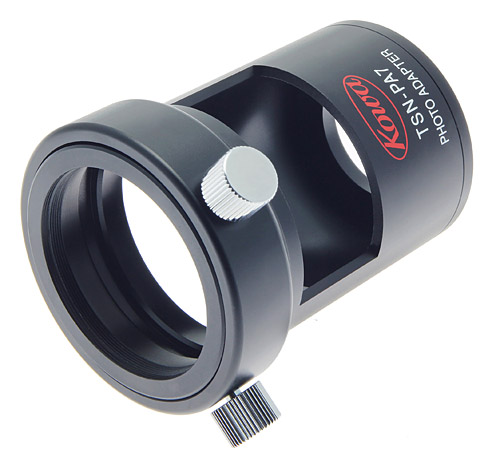 The Kowa TSN-PA7 – digiscoping made simple!
I'm using a Micro four thirds body, so this increases the telephoto power even more when compared to using a full frame camera (2x crop factor). But if you follow a few simple rules, it is possible to capture amazing high telephoto images of long range wildlife. The biggest problem is motion blur, shutter speeds need to by high – even though your digiscoping kit will be tripod mounted, just the action of you pressing the shutter by hand will cause camera shake – you need a fast shutter speed to freeze any motion blur. The next thing to remember is that a spotting scope has no electronics to pass to the camera – so you'll need to used to manual focus – manually focus the scope until the image appears sharp in your viewfinder.
Here's a quick run down of my technique using the Kowa TSN-PA7:
I keep the camera in aperture priority mode – the camera has an aperture of 0 – because there is no information being passed via the scope, this way I can use the camera functions to control shutter speed and exposure.
ISO settings – I use my ISO function on the camera (sensitivity to light) to control the shutter speed. The camera will decide what the appropriate shutter speed is to create a correctly exposed image. If the shutter speed it selects is too low – I will change my ISO settings to a higher ISO to make the camera more sensitive to light – therefore making the shutter speed faster for the same exposure. Remember a higher ISO will produce more noise (grainy image).
Shutter speeds – typically with the high telephoto power this system produces you'll want at least 1000/1 sec  – more if possible to freeze and camera shake.
Exposure – I always use my exposure settings on the camera and opt to always under-expose the image – this not only increases shutter speed but it also reduces the risk of overexposing an image – you can always brighten up an image in software but you can't pull back blown out detail.
I have produced some test images below with a reference shot showing the position of the subject and where I was standing. The three images were taken using the equipment and method above.
I used the zoom eyepiece at 25x optical zoom with the addition of prototype Kowa 1.6x extender which increases the magnification of the TE-11WZ in to 40-96x. The Kowa 1.6x converter – 'TSN-EX16′ is rumoured to be released this coming Autumn and simply attaches on to the Kowa scope body via the  screw thread the same as with other accessories. The good news is that it is fully compatible with the Kowa TSN-PA7 digiscoping adapter – giving Kowa digiscopers even greater reach.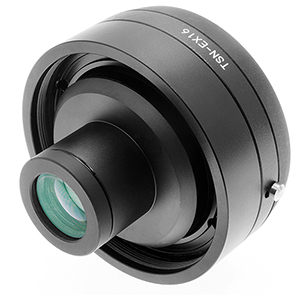 The New Kowa TSN-EX16 1.6x extender for The Kowa TSN-880 series spotting scopes –
keep your eye out for official news later this year.
What does this mean in photography terms?
40x optical zoom is the equivalent of 1750mm in telephoto full frame photography terms. I'm using a micro four thirds camera body with a crop factor of two – so that's 3500mm!
The equivalent F-stop (aperture) of this digiscoping system in photography terms is F19.9.
So in effect I'm using a lens with a focal length of 3500mm at F19.9 – now you can see why we need to be on top with our camera settings to achieve sharp results! But what you get in return is a high quality, ultra compact, ultra portable, ultra telephoto system, un-heard off in conventional photography – the opportunity to capture great detail without having to get close to the subject matter. I think the following images are a good example of what this method of digiscoping can achieve. On the first shots, the red circle indicates the subject location taken with an iPhone from where I'm standing with my equipment. The second shot is the digiscoped result.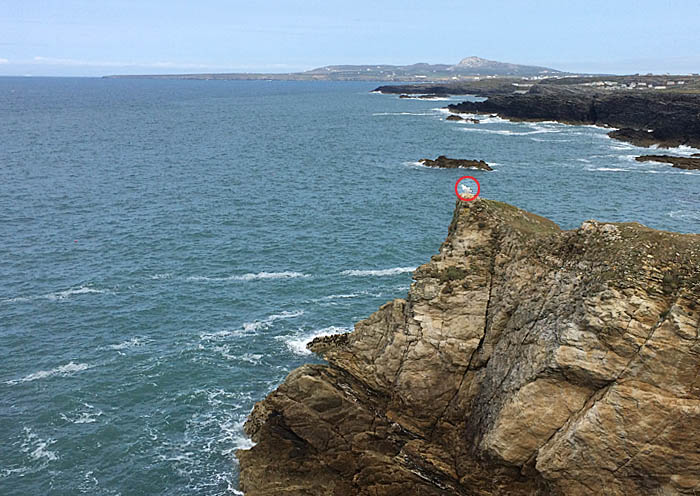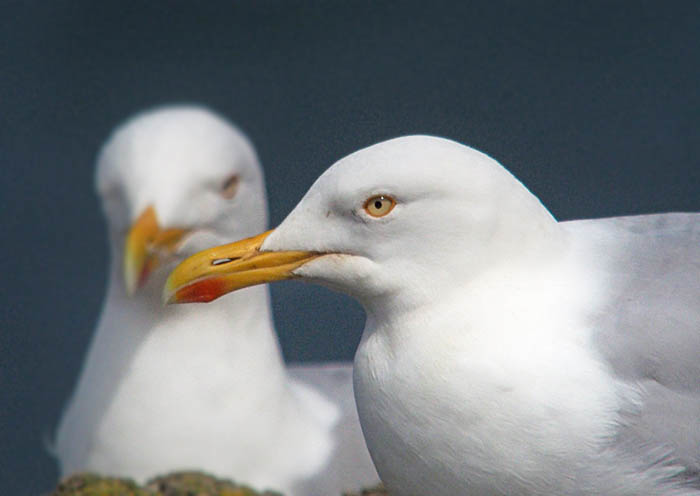 Kowa TSN-884 spotting scope
Kowa TE-11WZ eyepiece at 25x
Kowa TSN-EX16 1.6 x extender
Kowa TSN-PA7 digiscoping adapter and Olympus OMD E-M5 MKII
Aperture priority, ISO 1600, Spot metering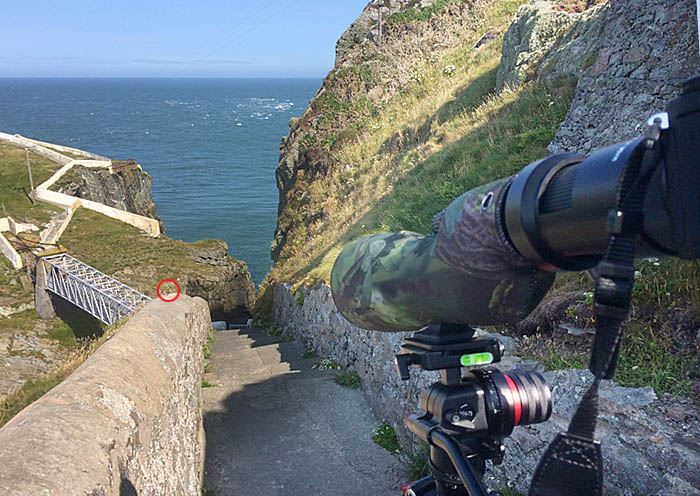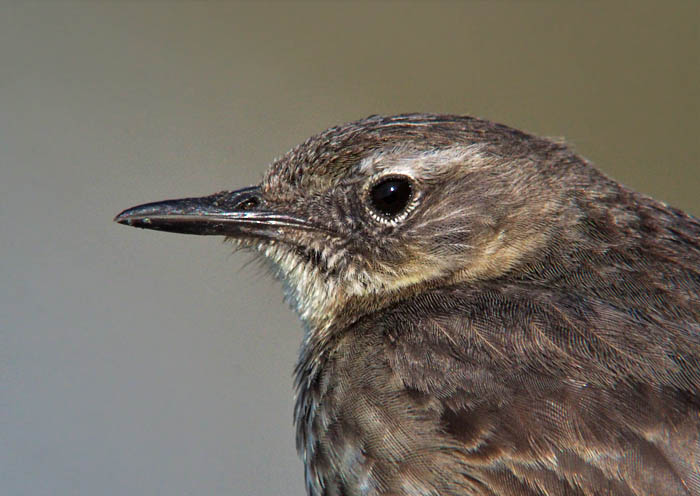 Kowa TSN-884 spotting scope
Kowa TE-11WZ eyepiece at 25x
Kowa TSN-EX16 1.6 x extender
Kowa TSN-PA7 digiscoping adapter and Olympus OMD E-M5 MKII
Aperture priority, ISO 1600, Spot metering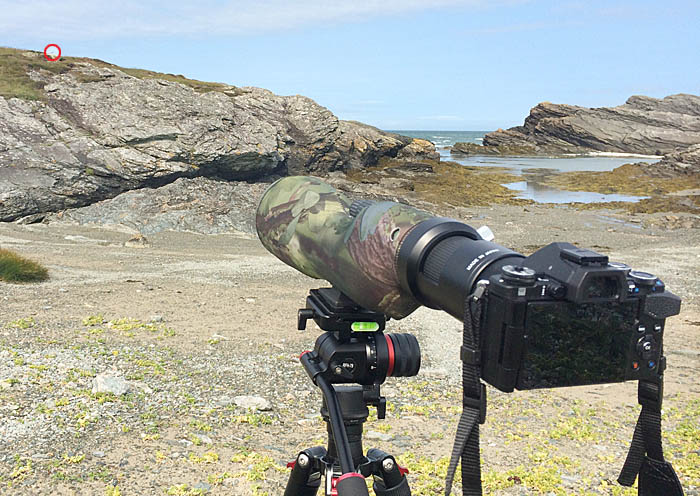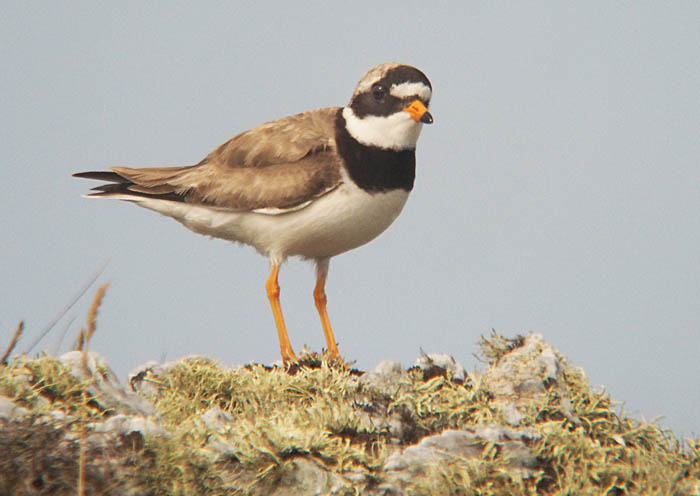 Kowa TSN-884 spotting scope
Kowa TE-11WZ eyepiece at 25x
Kowa TSN-EX16 1.6 x extender
Kowa TSN-PA7 digiscoping adapter and Olympus OMD E-M5 MKII
Aperture priority, ISO 1600, Spot metering