I think this weekend – I have beaten my record for the furthest distance I have ever digiscoped a subject.
I'm still amazed just how good the Kowa TSN-EX16 1.6x extender is – it opens up a whole new experience when used with my Kowa 884 spotting scope.
It was a lovely clear night on Anglesey and the plant Jupiter was showing very well indeed. First my intention was just to view it through the scope which I did using the 25x60x eyepiece. I could clearly see Jupiter and three of its moon. I then added the extender to make the maximum optical zoom 96x – this gave me a view of Jupiter that I had never experienced before using a telescope – I could clearly see bands running across the plant surface – it was breathtaking.
I then had the crazy thought to try and digiscope what I was seeing with my eyes – Keeping the extender on and adding the Kowa PA7 digiscoping adapter – I connected my Olympus OMD EM5 MK II – with the 2x crop factor of an MFT sensor – this was creating truly massive focal lengths – it wasn't easy – trying to even find Jupiter in the sly at this magnification – let alone focus on it, as soon as the plant came in to view through the camera – I had to act fast, the plant moved quickly across my viewing plane due to the high magnification and I had to constantly adjust focus and re-check in these difficult conditions – I have to say for a first attempt of digiscoping a plant 365 million miles away from my location – I was really pleased – the image below does justice to what I saw with my own eyes – and I'm pleased that the digiscoped image I captured show detail of the planets surface.
Below you can see the image and the equipment I used to get the shot.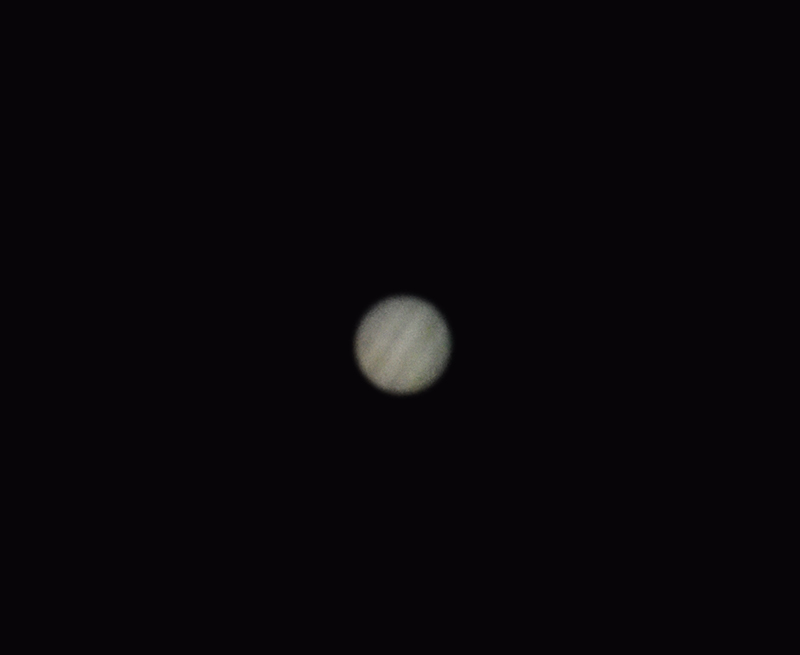 Jupiter – 365 million miles away – captured with one shot and exposure – digiscoped with the Kowa TE-11WZ 25-60x eyepiece,
TSN-EX16 1.6x extender, TSN-PA7 digiscoping adapter and Olympus OMD-EM5MKII